Siberian jays by the lake Hietajarvi
Pine grosbeak in Ounasloma
Willow grouse in National Park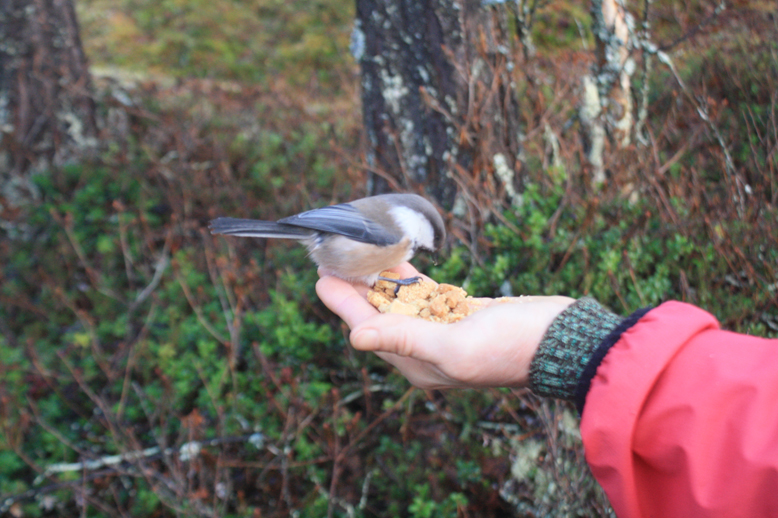 Siberian tit
Birdwatching
In Enontekio region it is possible to see Arctic birds which are very uncommon further south. These include, for example, willow grouse, Siberian jay, pine grosbeak, snow bunting, arctic tern and Siberian tit, with gyrfalcon and snowy owl more likely in winter.
Yrjo Kokko, a well known environmentalist and writer in Finland, lived in Enontekio. There is a birdwatching tower named after him 12,5 km to the east of Ounasloma. Some Arctic species can be seen here, and the tower provides an excellent view over the fells. You can go there by car or bicycle. Our customers can borrow a bicycle in the summer free of charge. The tower is about 200 m from the road. For more information, ask Ounasloma staff.
There is another good birdwatching tower, Sotkajarvi, 16,5 km to the west of Ounasloma, where many rare birds have been seen. Typical birds of the lake are whooper swan, geese (bean and other migratory species), ducks (including velvet scorer and snew) and breeding ruffs. Birds of prey, like rough-legged buzzard and hen harrier, sometimes hunt in the area. There is also a chance to see arctic owls and even eagles. Wheelchair access to the tower is provided.
For the more energetic, a visit to the fell National park (key to the access gates available on request from reception) provides a chance to see such upland Arctic specialities as ptarmigan, whimbrel, bar-tailed godwit, dotterel and long tailed skua. Away from the trail, enjoy a real wilderness experience!
Lapland is famous for its breeding shorebirds. Any large expanse of bog will have its complement of wood sandpiper, spotted redshank and jack snipe but there is also the possibility of finding temminck's stint or the much prized broad-billed sandpiper. Common cranes use these areas to feed and nest.
Without travelling, there are plenty of birds to see around the Ounasloma site itself. There is a birdfeeder outside every living room window. We supply several hundred kilos of bird seed every year. You can enjoy your breakfast while watching variety of birds. There are also many bird boxes of different sizes. Most of the large ones are used by goldeneyes, a tree-nesting duck which finds suitable holes difficult to find. The smaller boxes are occupied mainly by tits and pied flycatchers. There is a beautiful birdsong concert in Ounasloma area every summer, especially in May and June.
Visitors: 37245
Pages updated on 23.6.2023