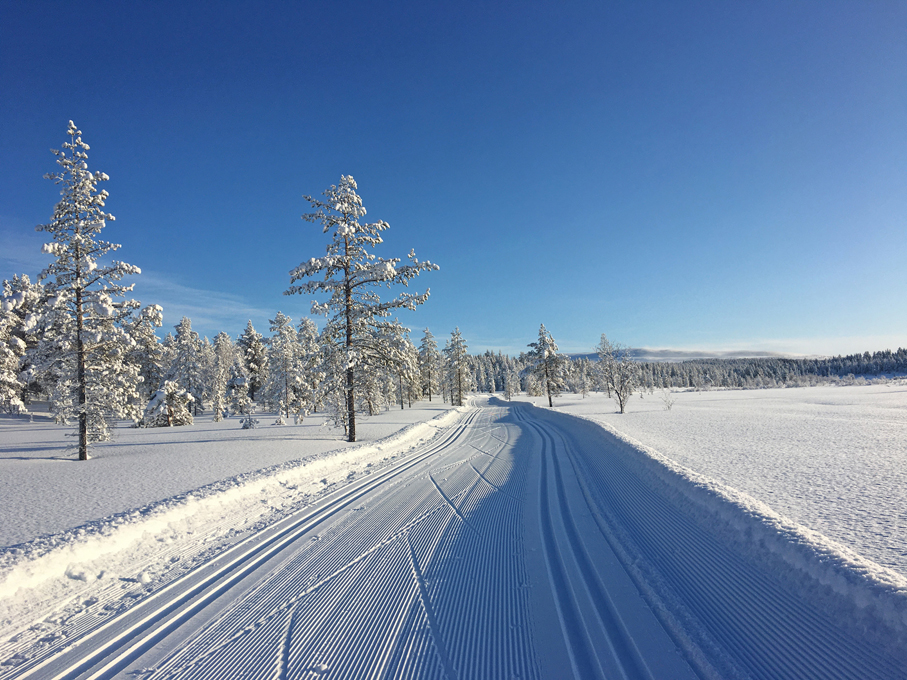 Cross Country Skiing
There are about 120 km cross country skiing tracks around Enontekio village, mostly south of Enontekio village around Ounastunturi Fells, in Yllas-Pallas National Park. Some tracks are also on the north side of the village. All skiing tracks are open from February. 10 km illuminated skiing track is usually open from November, depending on snow situation. Skiing conditions are usually good until beginning of May. You can start skiing straight from the cabin.
There are many open cabins and fireplaces by the skiing tracks. In Pyhakero there is also a cafe in March and April. You can get a map of skiing tracks from Ounasloma. We also have a ski maintenance room.
You can also rent skis, snow shoes and fatbikes. For more information ask Ounasloma personnel. Rental prices.
You can see the current track maintenance situation below

= maintained today
= maintained in 1-4 days
= maintained in 5-14 days
= maintained in more than 14 days
Wilderness ski tracks are driven as follows:
On Monday Pahtajarvi
On Tuesday Ullajarvi
On Wednesday Sammalvaara
On Thursday Hannukuru
On Friday Onnasvaara
Visitors: 38187
Pages updated on 19.10.2023